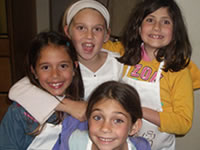 Welcome to Chabad Hebrew School, an exciting and innovative educational program in the Florida Keys. Our School enjoys a well-earned reputation as a trend setter in creative Jewish education for children; Chabad Hebrew School has exciting new programs, a dynamic staff and interested students. Our student body is made up of children from various backgrounds and affiliations. 
Our staff Rabbi Yaakov and Chanie Zucker, are entirely dedicated to each individual child, as well as to living the ideals that we teach.   For us it isn't merely a subject we are teaching, but a life we are living, and the children sense that, for as the adage states, "Children are mediocre listeners, but phenomenal imitators."  
CHS introduces children and their families into the broader Chabad community and provides them a place they can call home for Jewish life.   No affiliation or memberships are required whatsoever.
We encourage you, as a parent, to get involved, ask questions and keep in touch with our school. If there is anything you would ever like to discuss with me, feel free to call us at 305 295-0013 or 305 304-1466
Looking forward to a fun and successful year of learning,
Sincerely,
Chanie Zucker
Director